5/24/2018
Gathering Table : Cortland Ave and Andover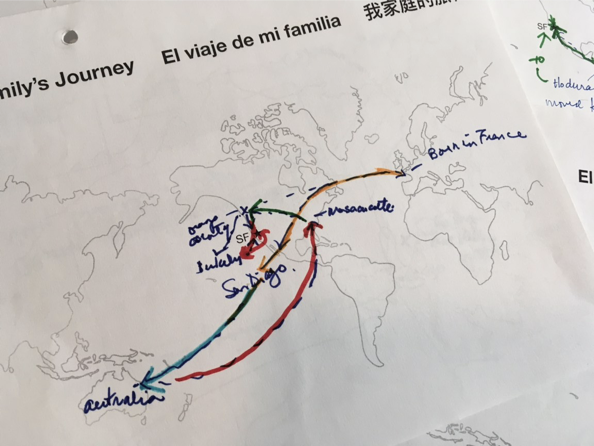 On Sunday, May 27, look for a kitchen table on the sidewalk in front of the public library!
Please join us at our Gathering Table, a story-sharing activity this Sunday afternoon in Bernal Heights. If you're free, stop by to add your stories to the mix. And if you know anyone else in the neighborhood who might like to contribute their family's journey to our art project, please do send them our way. We will be highlighting stories of migration and transition, refuge and resilience along the 24 Divisadero Muni line. Maps will be on hand for tracing the migration pathways of individuals and family members. Plus: lemonade and cookies!
Please share widely with folks you know who live or work in Bernal Heights.
Hope to see you!
2/2/2018
We're Funded!
Great news for the new year!!
Survival Project, in collaboration with the Chinese Culture Center of San Francisco, is one of four 2018 award recipients from the Kenneth Rainin Foundation's Open Spaces public art program. The grants support nonprofit organizations and artists to partner to create projects in Oakland and San Francisco that engage communities, showcase artistic experimentation, and energize public spaces.
As our artist collaborative's second project, TRANSITION24 will be a series of multimedia installations using San Francisco's 24 MUNI bus line to engage communities along its route in an exploration of survival, access, migration, and resilience. The project will showcase oral histories, photography and public archives while incorporating MUNI infrastructure as sites of public art.
We're honored to be in such good company — Flyaway Productions, Galeria de la Raza, and Youth Speaks are 2018 fellow grantees. Please visit the Rainin Foundation's website for more info about the Open Spaces program and all of this year's winning projects.
10/15/2017
Gathering Table #1 : 30th and Mission
A kitchen table set at a major stop along the 24. Offering welcoming refreshments—recognizable blue tins of Danish butter cookies plus glasses of lemonade and iced tea—we invited commuters and pedestrians to share a story of their journey to the here and now.
9/26/2017
Open Spaces Program Grant Finalist
The Survival Project is one of ten finalists for the Kenneth Rainin Foundation's Open Spaces Program.  This program supports nonprofit organizations and artists to partner to create temporary place-based public art projects in Oakland and San Francisco.
We are honored to be in very good company.